Discover more from David Lebovitz Newsletter
A tasty mix of recipes, Paris food tips, personal stories, and more... Sign up and get my newsletter delivered right to your Inbox!
Over 176,000 subscribers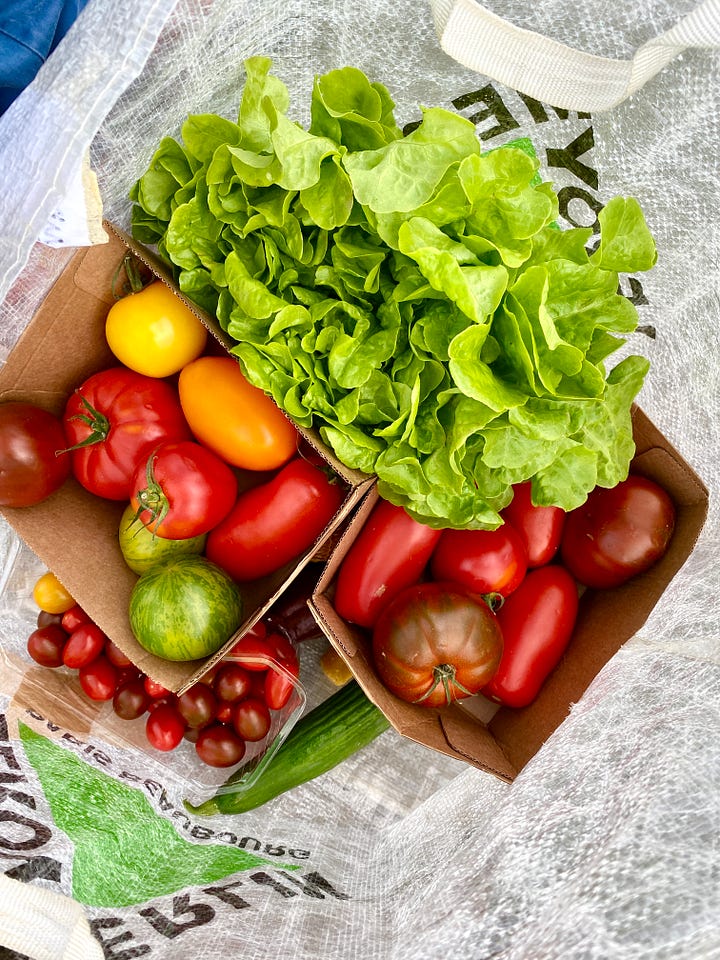 Brittany
The sunny south of France isn't a favorite of Romain's. Like many Parisians, he tends to gravitate toward Normandy and Brittany for vacation, which are beautiful regions, but the weather can be decidedly chilly.
Paris, and its inhabitants, haven't quite figured out how to cope with the heat that's been rising rapidly year after year, and I was alarmed to read Parisians are most at risk of dying in all of Europe. People consider fans and ventilation, ice in drinks, and air-conditioning, hazards to one's health. But so is passing away. So there's that.
Brittany is magnificent, with rocky coasts, dramatic weather, and lots of vegetation due to frequent rain. A number of years ago, we rented a house in Brittany for a week in August, and the rain persisted the whole time. I'm sure the plants were happy, but I wasn't.
(I also remember the people who owned the rental home where we stayed didn't tell us that we needed to bring our own sheets and towels, and we arrived on a Sunday when everything was closed, so we had to sleep on a bare bed the first night.)
We spent most of the week tending the fire to keep us warm and peering out the window at the rain, wondering what we were going to do all day while stuck inside? But at least we had sheets and blankets, after a trip to the nearby Carrefour hypermarket.
This year, some friends invited us to join them in the Finestère, a region of Brittany that faces the Atlantic Ocean. They live in Paris but have a house in another part of Brittany, but — as I mentioned — Parisians really like Brittany. So we joined them.
They were staying at the well-situated Hotel de La Mer, which faces the ocean. But that hotel, as well as all the others in the area, had been completely booked well in advance. But by chance, I found us a place in a chambre d'hôte (a room in a guest house) that had a cancellation, which turned out to be lovely. The Manoir de Kerliviry was very clean, well-organized, and run by a lovely woman, Christine Ponthieux, who prepared a sumptuous breakfast every morning, with lots and lots of bread. This was the view from our room…
[You can find gîtes and chambre d'hôtes at the official website, Gîtes de France. In most cases, you'll need a car, but some are located in towns and villages.]
This year, remarkably, it was mostly sunny and warm (26ºC/78ºF) in Brittany, although as always, the water at the beach can still be quite a jolt. But I find it easier to swim in the frigid waters when it's hot out, rather than when it's blustery cold…as the sturdier locals don't have any trouble doing.
When people think of the foods of Brittany, one of the dishes that comes to mind is moules-frites, mussels and French fries, which are actually Belgian, but widely enjoyed in Brittany. Like crêpes and galettes, also associated with Brittany, mussels pair remarkably well with local hard apple cider, another specialty of the region. If you go and if you like cider (or are looking for something to drink other than wine or beer), look for artisanal or fermier versions, which are made by small producers and naturally fermented and taste a lot better than the industrial versions. If you're in Paris, La Cidrerie has an excellent selection of ciders to taste.
For those who want to "live like a local," feel free to indulge in slices of andouille sausage, made from the various parts of a pig's digestive tract, which you need to be French to, um…appreciate. Above is a specialty called Gridouille, which even our French friend who we were traveling with, who doesn't eat meat or poultry, wolfed down. It's so strong in smell that I once made Romain get out of bed and take a shower because the odor was wafting from his pores.
Kig ha farz is another traditional dish, but one that you rarely find outside of Brittany: a buckwheat dumpling served with pork and boiled vegetables. It's a winter dish but is served at local festivals.
When I posted a link to the recipe on my website, someone commented the dish looked unappetizing. I suppose a better photographer could do it justice, but it's hard to make a grey dumpling look attractive. But I've had a lot of pretty food that didn't taste so good. So there's that.
But what really shines in Brittany are the pastries made with the marvelous salted butter that the region is famous for. It's also used it in salted butter caramels which Henri LeRoux pioneered, and have won over the world. (Warning: The photos in that post, from 2006, are admittedly terrible. But the caramels are amazing, and you can get them at his shops in Paris.)
Being a "pioneer" can be tricky as people look back (say, to 2006…) when we all had point-and-shoot cameras and were amazed we could slip a camera in our pocket and take (what we thought) were good pictures and post them on the internet. I was possibly one of the first to post pictures of Kouign Amann, and a recipe, in 2005, before a lot of people heard about them, which is now making me feel old.
Since then, a multitude of talented bakers have made fancier versions of them, such as my friends Romina at Les Madeleines in Salt Lake City (which has recently closed), and Belinda at b. pâtisserie in San Francisco, who infrequently makes them with black sesame seeds, which are amazing.
In Brittany, they come in all shapes and sizes. Sometimes they're made individually, in little rounds, and other times they're made in big slabs, which you find at the outdoor markets sold by the rectangle. I did put a recipe for individual ones in my book, L'Appart, with the help of Romina over the phone, because they're so tricky—and I was developing the recipe during one of our infamous heatwaves, which isn't conducive to rolling out butter pastry. But if I can make them when it's 103ºF/40ºC, I hope you can too.
Another specialty of the region is Palets Bretons, big, thick butter cookies, yup…made with salted butter. Sablés Bretons, aka Galettes Bretonnes, are the smaller version.
Subscribe to my newsletter to receive new posts. Free subscribers get some posts and paid subscribers get all posts, plus full access to the archives and can participate in the comments.
People were aghast when I mentioned a few months ago that I, like people in Brittany, often bake with salted butter. It caused a bit of a ruckus online (imagine that!). So much so, that I got interviewed about it for Epicurious. But if you want to get these cookies right, you need to go against the unsalted butter flow. I know you can do it!
Far Breton can confuse people since in French it's referred to as flan. In the Breton language far means flan, which is different from Mexican flan, a caramelized custard that's turned out onto a plate, which is called crème renversée in French, or crème caramel.
Prunes also have another name: dried plums, part of an unsuccessful rebranding effort to make prunes more likable. In France, no one dislikes prunes. In fact, the pruneaux d'Agen are sold as delicacies, not laxatives. They're really delicious flambéed in rum or Armagnac and baked in a semi-rich custard that's not too dense, and not too heavy. A slice goes great with coffee, another colon stimulant that doesn't inspire the same snickering…and no one's going around trying to rebrand coffee, are they?
A new dessert on the Breton pastry scene is Ar Gwastell. A layer of sablé Breton, strawberry-rhubarb jam, and madeleine batter topped with buckwheat nougat, which will be sold only between April and September to "preserve its seasonality," from what I've read. (I always thought eating jam didn't have a season.) It sounds like a mouthful and sounds good on paper, or on your computer screen, but there was too much going on in there for me. So I'll stick with the traditional favorites.
On the simpler side of things, we were in Brittany during strawberry season, and the strawberries from Plougastel were for sale on a ledge outside a shop in a village. They're really good strawberries and make the perfect dessert, even if they don't have any salted butter in them.
The Languedoc
Even though the temperature this year in Brittany reached new heights, I was ready for a full-on summer with a warm beach where jumping into the water isn't a heart-stopping event, as it is in Brittany. So we spent the final weeks of summer in the Languedoc for some actual R&R.
Some people's idea of a great vacation is doing a lot of sightseeing, going to museums and cathedrals, meeting new people, or hiking up a mountain. Mine is sitting in a transat (lounge chair) with nothing to think about except what we're going to have for lunch or if I should go back in the water. And that's it.
People warned us before heading to the region, "Oh, it's going to be sooo hot there!" For the life of me, I have no idea why people tell other people the worst things about where they are going.
No one said, "Enjoy the beaches and the excellent market in Olonzac," which is exactly what we planned on doing. We arrived by train and were told to keep the window shades down while en route to keep the heat out because the train didn't seem to have AC or ventilation.
But upon arrival, we weren't hit with a blast of heat. In fact, it was a brisk 17ºC (63ºF), and for the next few days, it was not only on the cool side, we had the Occitanie equivalent of the mistral, called the tramontane, an intense wind that's strong enough to knock over tables, chairs, and even trees.
Beach time was put on hold until the weather turned much nicer. Speaking of which, can anyone tell me why the Apple weather app often gets it wrong? The app was just like those Debbie Downers telling us how hot it was going to be, except it was telling us to expect rain the first weekend we were there and last most of the following week.
Then, suddenly one day, the app told us it was all going to be sunny and beautiful for the rest of our trip, which it was. I'm not complaining, but the app ain't what it used to be.
The village we stay in isn't that notable (especially since the only boulangerie shut its doors a few years ago), but there's a village festival on selecte evenings where a pitcher of rosé will set you back €2,50 ($3), and there are big bowls of ice to drop in your drink to keep things cool. Unfortunately, the food trucks haven't figured out how to feed a crowd in all the years we've been going there, so the wait for a pizza or burger is over an hour, so we've learned to eat before we go.
We did go to some favorite restaurants and discover a few new ones, such as La Maison de l'Écurie, a grillade where almost everything is cooked over a fire. It wasn't a fancy place by any means but friends who've lived in the region told me that some restaurants try to be fancy and can suffer from "Square Plate Syndrome," so you'll find balsamic scribbles, strawberry halves garnishing fish, and other silliness on plates with angles, although the slate plate trend seems to have died down in France, which I'm sure the waiters (and their poor fingers and backs) are happy about.
Here are some favorite addresses where we ate:
Dessert include salted butter caramel ice cream made with sheep's milk and fleur de sel (harvested just outside) as well as a TiramiSel, the Italian classic accented with the hyper-local salt. For some reason, this place gets so-so reviews online, but we always like it and return for the very cold wines, the very fresh shellfish plucked right from seafood tanks next to the dining area, and friendly servers.
[At all restaurants, it's important to reserve in advance almost everywhere in France, especially in the summer. We tried to eat at a hamburger place on the beach at lunchtime, the Mosquito Coast, and were turned away because we didn't have a reservation.]
If you're anything like us and always on the lookout for good food, our favorite place to go in the region is the excellent market in Olonzac on Tuesday mornings. Unlike the markets in Paris, because the market is mostly small producers, you need to get there by 9am to get a parking place and to get the best pick of the produce before it's all gone.
On the narrow street where the market is, there's a very nice fellow who makes and sells wonderful fresh and slightly aged goat cheeses, sold from a homemade wooden cart. You'll find tables piled high with tresses of fresh pink garlic, baskets of wild blueberries, tiny (and very delicious), tender strawberries, oysters and palourdes (clams), magnificent figs, colorful peppers and eggplants, and, of course, lots of tomatoes, which we enjoyed a plate of every day.
Another favorite activity when we travel is shopping at Emmaüs thrift stores and hitting outdoor vide-greniers (flea markets) and brocantes. Since moving last year, I've curbed how frequently I go to vide-greniers because we have less storage space in our new place, which is hard when traveling because the ones in the countryside are a lot better than the ones in Paris since the prices are lower and they're just people (not professionals) who've set up a table and are selling stuff just to get rid of it. So there are deals to be had, and I've had some doozies.
People frequently ask me how to find vide-greniers in the countryside, so here's the scoop: Almost always, the location and dates of nearby vide-greniers are posted in traffic roundabouts and nearby streets.
You can also check websites and apps like Brocabrac, which lists brocantes and vide-greniers, including those in Paris.
But the one we went to in Cuxac d'Aude was completely off-the-grid, with no signage; we were tipped off to it by another shopper while browsing at another vide-grenier, which wasn't very good. I managed to find a Raymond Loewy Le Creuset coquelle (casserole) that was just sitting on the ground, completely ignored. I also bought five mini café au lait bowls, which were 50¢ each, and a barquette of figs, which I didn't have to worry about finding storage space at home for 😉.
At this risk of this becoming the world's longest newsletter post, and/or, a vacation post that just refuses to end, I'm winding up now. I promise.
But I can't leave without thanking the méduses for not showing up this year. The upside of the cooler weather our first week in the Languedoc, which warmed up nicely, meant there weren't the Frisbee-sized jellyfish that we've encountered in the past…such as this one that had washed up on the beach last summer, which wasn't the only one.
I wasn't so lucky then, and while I wasn't actually stung, I had a burning sensation… down there…if you know what I mean, which a local I confessed my plight to told me was because of the poison in the water around them. So it's not so safe being even near them.
But the biggest victory I scored this summer was figuring out how to fold the famous French "2 seconds tent" for the beach.
I can't tell you how many times we've tried to fold up the tent on a beach, only to have it spring back open, taunting us to try it again. There's an Ikea-like diagram included, which is of absolutely no help, and the only decent video on the topic I found was an out-of-focus salesclerk, filmed in the store aisle, folding the tent up, which was 1:42 minutes longer than 2 seconds. I had to watch it least a dozen times to figure out what the heck he was doing
After spending the morning on the patio where we were staying, which was calmed than the beach, I finally succeeded at folding the '2 seconds tent.' To help others, I made a video for YouTube on how to do it but was unfortunately attacked by two yellow jackets while filming, so will have to refilm it next summer. (I tried to film Romain doing it, but he didn't succeed at folding the tent and kept cursing at the unruly nylon abri before finally walking away, leaving a string of curse words behind him.)
Under the shelter of our tent, along with a few umbrellas, we hit the jellyfish-free beach almost every day. The water warmed up, and Romain was surprised to see me jumping so enthusiastically in the poison-free waves.
When all was said and done, although it took more than deux seconds, I managed to get the tent back in the case and zip it closed. Hopefully, I can remember how I did it for next year(!)
This post is for all subscribers. Thanks for subscribing.