Share this post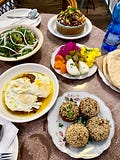 Eating in Tel Aviv with Amit Aaronsohn
davidlebovitz.substack.com
Eating in Tel Aviv with Amit Aaronsohn
Before I left for Tel Aviv this summer, I rounded up advice from friends who are chefs, cookbook authors, and seasoned eaters about where to eat. I've lived in food-centric cities most of my life, but Tel Aviv is in a class by itself. There are so many good places to eat, it's hard to whittle it down to just a few.
And if you're there, and ask anyone where they think you should go, be prepared for a lengthy discussion that will result in a strongly opinionated list of suggestions. And if others are around, expect them to interrupt with their own thoughts. People there love to talk about eating, but even better, they really love to eat.
When I ran my list of go-to places by my friend Amit Aaronsohn who lives in Tel Aviv and is a food writer, television and radio host, as well as tour guide, he cocked his head…nixed a few and replaced them with his own suggestions.
Having too many places to eat on your agenda isn't necessarily a good thing when you've got limited time, and when I mentioned my dilemma to another food writer in Tel Aviv, she replied, "If Amit says to go somewhere—go there."
(I'll be posting a list of places I ate in Jerusalem and Tel Aviv in a newsletter post shortly.)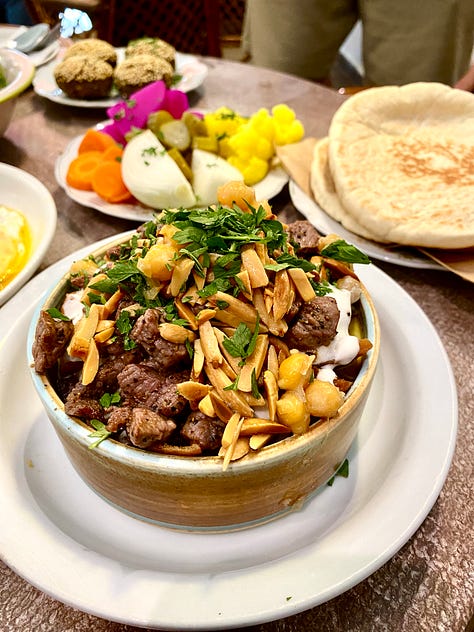 When I suggested to Amit that we meet up at Shlomo & Sons on a tip from a friend who told me it was her favorite place for falafel (which was on the other end of the city), Amit said to me, "You don't need to go that far for good falafel here," and suggested Al Kalha in Jaffa, the historic old quarter of Tel Aviv, where he lives.
Al Kalha doesn't look like much from the outside, or when you walk in, so I wasn't expecting much and let Amit take the reins for ordering. But when the food started coming out, in true Middle Eastern style, our table was loaded with food, including just-fried, warm falafels stuffed with onions and sumac and an astounding bowl of warm hummus topped with pita croutons, almonds, and meltingly tender chunks of juicy beef*.
During our meal, while recording the podcast, owner Ahmed Kahtab (shown above, with me and Amit) came by to see how we were doing and pulled up a chair. He explained that during the pandemic, when his hummus shop went on hiatus, he decided to transform the entire menu and feature dishes from his family's long history in Jordan and other regions. He talked for a few minutes during the podcast, and while my Hebrew and Arabic skills are pretty non-existent, it was wonderful to meet him and learn about his food, thanks to Amit's translation skills. (And thanks to Justin Golden for his expertise in editing this episode, as well as my others.)
Eating with Amit at Al Kalha was really a highlight of my trip, and I hope you enjoy listening in!
-David
Amit Aaronsohn does travel planning and leads private culinary tours. You can DM him via his Instagram page.
I hope you enjoy my newsletters and podcasts! To get them delivered right into your Inbox, become a free or paid subscriber.
A FEW NOTES:
-Substack is now offering a new transcript service, which is still in BETA, so you can read the podcast/interview instead of listening to it. I'm using it for the first time here and according to them, once a podcast post is published, an "…episode details tab and transcript tab will appear on the post." So there should be an option there to read the transcript for those interested near the top of the page, where it says "Transcript."
I did take a look at the transcription, and it's definitely still in the BETA stage😉, so it doesn't read smoothly. But they're still working on it, and hopefully, it'll improve as things move along.
*While the recipe they serve at Al Kalha is a family secret, I've found recipes for Hummus with beef here, here, here, and here. There's a recipe for Hummus with Spiced Lamb on my website.