Discover more from David Lebovitz Newsletter
A tasty mix of recipes, Paris food tips, personal stories, and more... Sign up and get my newsletter delivered right to your Inbox!
Over 176,000 subscribers
Olga
A pocket-size sandwich shop, café, and wine bar in Paris.
One of the jewels of Paris is La Buvette, a compact wine bar presided over by Camille Fourmont, who created a highly personal buvette (place to drink), with approachable but interesting wines, outfitted with antique plates, flea market–found silverware, and a blackboard menu scribbled with delicious things to eat.
I featured Camille in Drinking French, along with her recipe for the famous Giant Beans and her excellent, and easy, terrine. (Other recipes can be found in her book, La Buvette: Recipes and Wine Notes from Paris, co-written with Kate Leahy.)
Camille has a knack for breathing new life into abandoned spaces, restoring what keeps them resolutely French, yet winking at beloved French traditions, such as using vintage café ashtrays advertising apéritifs oubliés (forgotten), filling Le Parfait jars with homemade pickles, and filling a former glass case that once held chocolate bonbons with hay-crusted French cheeses.
Olga, her new café/wine bar/buvette (drinking spot), is another gem. Just after I arrived at Olga on my first visit, I asked Camille where the old candy shop was that used to be on the same street. She said, "David, this is the old candy shop!"
Adjacent to the Gare de Lyon, it's a surprising neighborhood to open in. But like others in Paris, such as Franck Audoux at Cravan, Pierre Jancou who pioneered Vivant…
…and Antoine Goldschmid at Poulette, they're less interested in being in a trendy neighborhood than finding unique spaces that haven't been touched (or ruined) by remodels, and polishing them back to their former glory.
It was nice to see it lovingly revisited…and with good food and wine to boot!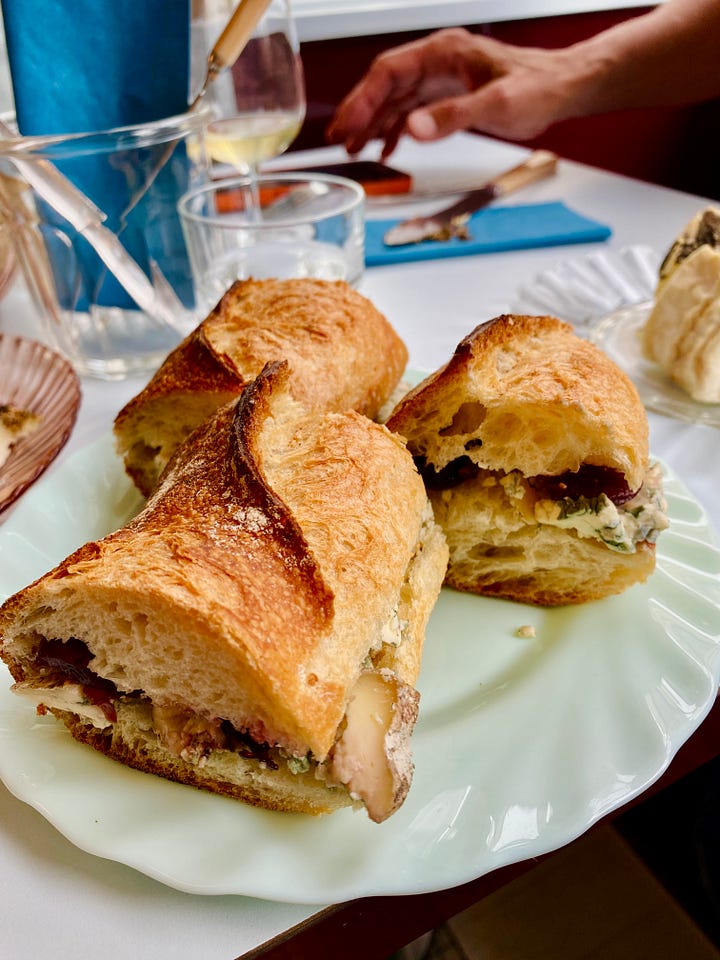 A stack of bien cuites (well-cooked) baguettes sits on the counter, ready to be split open and made into sandwiches. We shared a sandwich inspired by the blue cheese–Amarena cherry bao at Yam T'Cha, which Camille confessed was her favorite of their baos. (It's not my favorite combo in a bao but works better for me in a sandwich.)
The wines lean toward natural wines, but as Camille wrote in her book, she's not militant about natural wines; she just likes good wine, whether it carries a certain moniker or not. True, natural wines have turned into a "thing," and I like them. But some require an open mind and attitude to appreciate*.
Subscribe to my newsletter to get more recipes, posts, and Paris dining recommendations. Free subscribers get some posts and paid subscribers get all posts, as well as access to the archives and the ability to participate in comments.
We had glasses of aligoté, a white wine from Burgundy, which previously had a less-than-stellar reputation; it was known primarily as the wine used to make a kir. One theory goes that the kir was invented to get people to drink the formerly undesirable aligoté of the region (which was known for being acidic), by adding blackcurrant liqueur to it. But aligoté has come into its own, and it's one of my favorite wines. Just don't confuse it with aligot, the stretched cheese and potato dish. When ordering the wine, you pronounce the final "e" whereas in the potato dish, the final "t" is silent.
What really wowed me here were the cheeses, many of which I'd never seen before in Paris. If there's a better pairing than cheese and wine, I haven't come across it.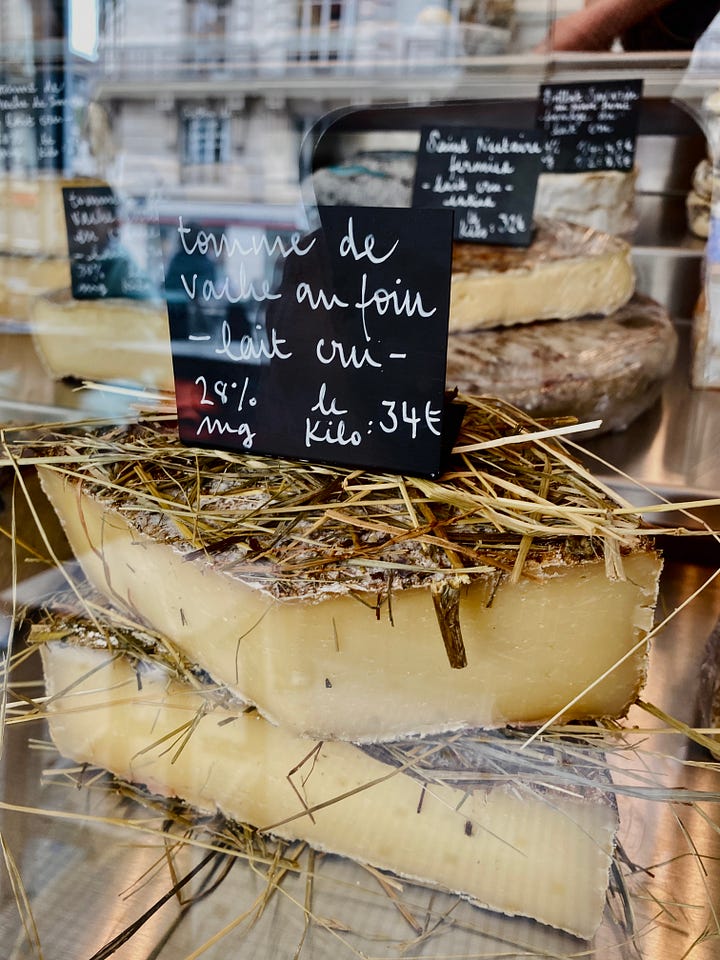 The cheeses are available for purchase but wonderful to enjoy sur place, on the premises. We had a few, including a tomme from the Jura flecked with wild garlic (above right), another ripened with hay (above left — and nope, you don't eat that rind!).
There are a few elusive blue cheeses, such as an artisan sheep's milk fromage bleu in the style of Bleu de Termignon, as well as a marvelously tangy Persillé de Tignes made of goat's and cow's milk.
In traditional dining, cheese in France is generally consumed after a meal, and the "nougat," below, wasn't quite dessert, but it was a nice bridge between the two.
Made in-house with leftover bits and ends of cheese formed into nougat-like cubes, and studded with hazelnuts and pistachios, it resembles its sweeter counterpart.
It's also Camille's wink and nod to classic French apéritif cheese snacks, such as Laughing Cow and Apéricubes, and I love that she's having fun with popular supermarket snacks, but making them herself. (And combatting food waste.)
But when it comes to an actual dessert, Camille offers up fontainebleau, a whipped blend of fromage frais and whipped crème fraîche that is literally heaven on a spoon. Candied Amarena cherries come back here, in addition to Sicilian orange jam and apple compote.
Olga
3, rue Michel Chasles (12th)
[Opening hours printed on the door, at the top of this page/post. For updates check out their Instagram page.]
This post is for all subscribers. Thanks for subscribing!
*I am by no means a wine expert, natural or otherwise, and adhere to the credo "drink what you like." I do, however, scratch my head over those who express vitriol against chemicals added to wine but who smoke cigarettes. (The discarded mégots, an estimated 30 million cigarette butts are tossed on the streets each year, take 12 years to decompose, and each one pollutes 500 liters of water.)
I've made comments here and there on natural wines, including in Drinking French, mentioning some might not be for everyone. A few well-meaning folks tried to fuel a feud between me and natural wine doyenne Alice Feiring, who is a friend, who mentioned in her newsletter that she disagreed with me. I dropped her a message about it, and she was totally fine with me having a different opinion than hers, which are a lot more informed than mine. If only all so-called disagreements could be resolved so amicably and easily. : )
But the more wines that I drink, the more I appreciate the layers of flavors that you get in some natural wines. And if you come to Paris, there are many natural wine bars where you can taste natural wines and see for yourself if you like them. It's all good.
**My proofer asked me about making Fontainebleau, as it sounded good to her, too! I linked to a recipe in the post, in French, but it's nearly impossible replicate outside of France because the dairy products aren't the same nor are they readily available elsewhere. Another credo of mine is that you just need to come to France to enjoy certain things, and Fontainebleau is one of them.
I did find recipes in English here, here, and here, which I haven't tried because I can get the real-deal. But if you do give it a go, let me know in the comments how it turns out.