Share this post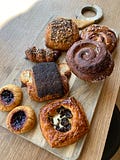 Podcast: Scandinavian Baking with Nichole Accettola of Kantine bakery
davidlebovitz.substack.com
Podcast: Scandinavian Baking with Nichole Accettola of Kantine bakery
A delicious bakery and café in San Francisco in the Scandinavian tradition
I had spectacular luck when I was in San Francisco and a friend suggested we meet up one morning at Kantine, a Scandinavian bakery and café. Arriving a little early, I was knocked out by the beautiful selection of pastries and breakfast offerings, which included open-faced smoked fish sandwiches on housemade sprouted rye bread, savory grain porridge, and a Scandinavian take on the breakfast sandwich, the Grovbirkes, a seed-crusted spiral of buttery puff pastry filled with warm scrambled eggs and crisp bacon. I wanted it all!
Share David Lebovitz Newsletter
After meeting owner/baker Nichole Accettola after breakfast, I invited her to join me on my podcast to discuss her life in Denmark with her family, Scandinavian versus French baking culture, and her return to the States to open Kantine. We also tasted a selection of her remarkable pastries (above), which are featured in her book, Scandinavian from Scratch, where Nichole reveals the recipes for the delicious treats from her bakery.
Order Scandinavian from Scratch Here
I loved meeting and chatting with Nichole, and enjoyed her wonderful pastries…and hope you enjoy our conversation, too.
-David
-Visit Kantine bakery & café and their website
1906 Market Street
San Francisco, CA
-Follow Kantine on Instagram
-Follow Kantine on Facebook and Twitter